Christ's Entry Into Jerusalem, by Memmi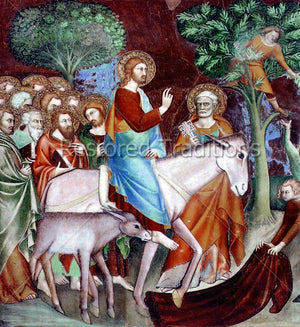 This is a depiction of Jesus Christ's triumphant entry into Jerusalem, by Italian fourteenth-century painter, Lippo Memmi.
    The artwork incorporates an icon-like style, such that the figures do not appear realistic.
    At the center of the painting, Christ sits astride a donkey. He wears a dark red robe and a light blue cloak, which is wrapped around His body. A dark gold halo surrounds Christ's head. The Savior's right foot, which is bare, shows from beneath His robe. Christ has white skin, shoulder-length brown hair, and a beard. He raises his right hand in blessing. A foal walks alongside the donkey on which the Savior rides.
     A boy wearing a dark orange robe stretches a dark red cloak on the ground in front of Jesus.
    Saint Peter stands near the head of the donkey, such that he faces the viewer of the painting. The apostle wears an orange robe. He holds a large key in his right hand. He has white hair and white skin. A dark gold halo surrounds St. Peter's head. 
    Behind St. Peter, on the right side of the painting, there is an olive tree. A young man wearing a light orange robe sits in the tree. The young man looks down, holding out his hand to someone standing beneath the tree. Of the person standing beneath the tree, only an outstretched arm is visible.
    Behind Christ, on the left side of the painting, there is a crowd of disciples. The disciples wear robes and cloaks of various shades of red and green. The disciples are different ages, as is evident by their distinct hair colors. Each has a dark gold halo around his head similar to the halos that Christ and St. Peter have. There is a tree behind the disciples.
The background of the painting is brown.
Download this high-quality image here.
---
Leave a comment
Comments will be approved before showing up.