Da Vinci's Last Supper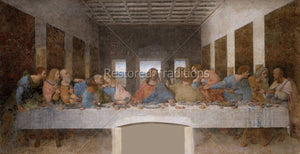 This is an image of Da Vinci's famous portrayal of the Last Supper.
    In the painting, Jesus Christ sits at a long table with His apostles.
    Christ sits at the center on that side of the table opposite the front of the painting. His apostles are gathered together to his left and to his right.
    The Savior has pale skin, shoulder-length light brown hair, and a beard. He wears a red robe and a blue cloak over his left shoulder. Christ stretches both His hands out on the table as He looks downwards at the table, inclining His head slightly to His left.
    On either side of Christ are six apostles. The twelve apostles are different ages, young and old. They wear robes and cloaks of various shades of red, blue, and green. The apostles lean on each other. Most of them face the Savior. Some raise their hands in wonderment, others clasp their hands at their chests. Others gesture towards Christ while talking to each other.
    On the table, which is covered with a white cloth, are large, oval, silver platters, small silver bowls, and small glass cups filled with wine. There are small, round loaves of bread in front of each person at the table.
    The room of the Last Supper is rectangular in shape. On either side of the painting is a long wall. The lines of perspective provided by the walls meet at the wall behind the figures seated at the table. This back wall has three rectangular windows in it, the center window being slightly larger than the other windows. Through the windows, the light blue sky and the faint line of the landscape are visible.
    Download this digitally-restored image.
---
Leave a comment
Comments will be approved before showing up.