Jesus Christ in Glory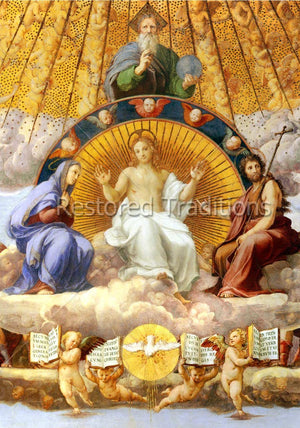 This is a detail image of Jesus in heavenly glory, taken from  Raphael's Renaissance masterpiece, "Dispute on the Blessed Sacrament".
    In the image, Jesus sits on some white clouds. The Savior has white skin, brown eyes, shoulder-length golden hair, and a thin beard. He wears a white cloak, which is draped over His left arm and wrapped around His waist and legs. There is a small halo behind Christ's head. The Savior faces forwards, inclining His head slightly to His right and raising both His hands so that the wounds in the palms of His hands are visible.
    Behind the body of Christ is a large circular halo. The inner part of the halo is gold, with sharp gold rays of light which are emitted from the Savior's body. The halo has a blue border. Five cherub heads with wings are on the border.
    The Blessed Virgin sits at Christ's right hand. She wears a blue cloak which covers her head and most of her body. Beneath her cloak she wears a red dress. There is a halo above her head. The Blessed Mother faces her Divine Son, clasping her hands at her chest.
    St. John the Baptist sits at Christ's left hand. He has pale skin, brown hair, and a beard. He wears a long, brown, sleeveless tunic. A brown cloak hangs from his right arm, which he raises in order to point towards Jesus. There is a halo behind his head. John the Baptist's body faces the Savior but he turns his head away from Christ. He points to Christ with two of the fingers of his right hand. He holds a cross on a long stick with his left hand.
    God the Father stands over Jesus, behind the large halo. The Father is depicted as an old man, with pale skin and a white beard. Only the Father's upper body is visible behind the halo. A small, gold, diamond-shaped halo is behind the Father's head. The Father wears a green robe and a light, blueish-purple cloak. He faces forwards, raising His right hand slightly. In His left hand, the Father holds a blue globe.
    The upper part of the image's background, behind God the Father, is gold. On the gold background are small, dark gold dots and dark gold rays which points downwards. Between the dark gold rays are rows of cherubs.
    The Holy Ghost, depicted as a dove, is positioned beneath God the Son. A gold halo halo is behind the Holy Ghost. Thin gold rays of light are emitted by the Holy Ghost.
    On either side of the Holy Ghost, two cherubs each hold up a small, open book.
    Download this digitally-restored image.
---
Leave a comment
Comments will be approved before showing up.