Mary and Her Immaculate Heart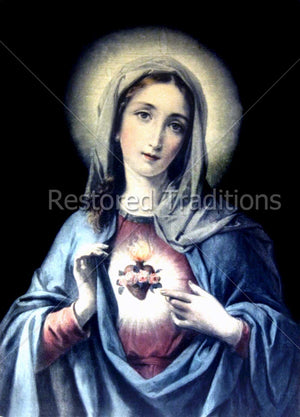 This is an antique illustration of the Blessed Virgin Mary and her immaculate heart.
    In the picture, Our Lady is portrayed as a young woman, with white skin, large light eyes, and pink cheeks. Mary's shoulder-length, dark brown hair shows beneath her white veil.
   A pale yellow halo surrounds the Virgin's head.
    Mary wears a red dress and a blue cloak. The cloak covers most of her body. The Virgin holds the cloak open with her right hand to reveal her immaculate heart. She points to her heart with her left hand. The heart has a flame atop it and a wreath of pale pink roses surrounding it. Around the heart is a circle of white light.
    The background of the image is black.
    Download this digitally-restored image.
---
Leave a comment
Comments will be approved before showing up.