St. Anne With the Young Virgin Mary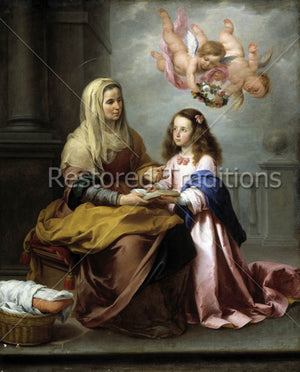 This is a painting of the young Virgin Mary with her mother, Saint Anne, by seventeenth-century artist, Murillo.
    The Blessed Virgin and St. Anne are in a pillared room made of dark stone.
    In the painting, St. Anne is depicted as being about fifty years old. Our Lady is depicted as a young girl of about seven years of age.
    St. Anne has pale skin and gray hair. She wears a light brown veil, a brown dress, and a brown cloak. Mary has white skin, brown hair, and brown eyes. She wears a pale pink dress and a blue cloak, which is draped over her left arm.  There is a small pink bow in her hair and a bow on the neckline of her dress. 
    St. Anne sits on a stool, gesturing with her left hand and holding a book in her lap with her right hand. Mary kneels on the ground beside her, holding onto the same book which St. Anne holds. On the ground, beside St. Anne, there is a basket with a white cloth and a loaf of bread.
    Two cherubs hover in the air, holding a wreath of roses above Mary's head.
    Download the digitally-restored image here.
---
Leave a comment
Comments will be approved before showing up.