St. Peter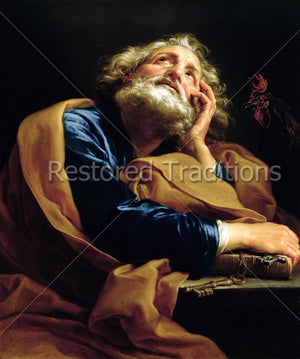 In this painting by Batoni, Saint Peter sits grieving over his sin.
    The apostle is depicted as an old man with pale skin, curly white hair, and a beard. He wears a blue robe and a yellow cloak. Peter supports his head with his left hand, his left elbow resting on the table beside him. He gazes upwards and to his right, with a sorrowful expression on his face. A few tears are on his cheeks. Peter places his right hand on a leather-bound book on the table beside him. A large silver key has been placed atop the book such that Peter's hand covers it. A large gold key, which is attached to the book by a leather thong, lies on the table. 
    The background of the painting is black. A rooster's head is visible beside St. Peter on the right side of the painting's background.
    Download this digitally-restored image here.
---
Leave a comment
Comments will be approved before showing up.