The Guardian Angel, by Kaulbach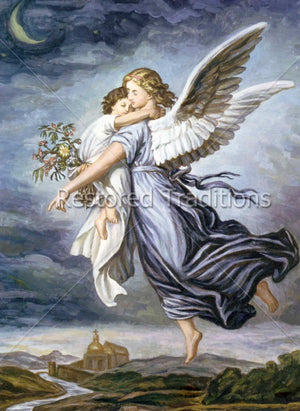 This is a restored image of the lovely painting depicting a guardian angel carrying a child, by Kaulbach.
    The angel floats through the air at the center of the painting. He is depicted as a young man with white skin, shoulder-length, curly blonde hair, and white wings. The angel wears a long, light blue-purple robe and a thin pink band on his head. His right arm is wrapped around the child's body. He holds a bunch of yellow and pink flowers in his right hand. The angel points his left hand downwards at the earth and follows his hand with his gaze.
    The child sleeps on the angel's chest with his arms wrapped around the angel's neck. The child appears to be about three years old. He has white skin and dark brown curls. He wears a long white garment.
    The land is a good distance beneath the angel and child. There are some low brown hills and some clumps of green trees on the land. A pale blue river winds its way through the land. At a bend in the river, in the background of the painting, is a church with a gold roof, a gold steeple, and a gold cross atop the steeple. There is a line of brown hills beyond the church. The sky is a blend of white, blue, and purple shades. There is a yellow moon in the left corner of the sky.
    Download this quality stock art.
---
Leave a comment
Comments will be approved before showing up.