The Madonna, by Botticelli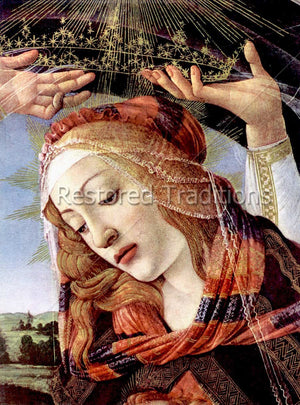 This is a beautiful detail image Our Lady, from a larger artwork by Botticelli, entitled The Madonna of the Magnificat. The portrait depicts the face and shoulders of the Blessed Virgin Mary.
    The Blessed Virgin looks downwards, holding her head to her right side. She has white skin and blue eyes. The Madonna has golden-brown hair, which shows beneath her transparent veil. Over her veil, the Virgin wears a red, black, and gold striped scarf. The Madonna also wears a black cloak with gold decorations and a red dress. Surrounding Mary's head are short rays of light, which are grouped together to form small triangles. 
    Two large white hands hold a crown above the Madonna's head. Only the arm on the right side is visible. On the arm is a white sleeve which has a golden border on it. The crowns which the two hands hold is composed of a thin golden oval and golden stars. The stars are clustered so that they form triangle shapes atop the halo. Golden rays of light shine down on the crown. Behind the rays of light is a dark arch. The sky in the background of the painting, beneath the arch, is pale blue. Also in the background of the painting is a green landscape.
    Download this digitally-restored image.
---
Leave a comment
Comments will be approved before showing up.